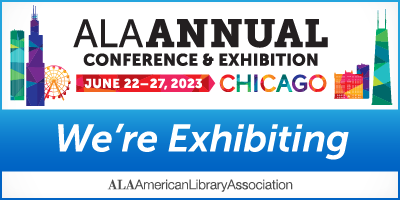 Are you excited about ALA Annual? HTP Books has our largest footprint ever with 8 authors appearing at panels, in our booth, and on the main stages.
And back by popular demand is our Blind Date With a Book giveaway in our booth: you tell us what you like to read, and we'll set you up with an Advance Reading Copy you will love. Our full schedule is below – see you in Chicago!
Please stop by the HTP Books booth #3617 for our author signings and check out their panels and stage events!
Saturday, June 24
9:30am – 10:30am – Jean Meltzer signing Kissing Kosher
11:00am – 12:00pm – Ismee Williams signing Boundless
1:30pm – 2:20pm – Anise Vance, Chapter One Stage (Next to Booth 1342)
2:30pm – 3:30pm – Isn't It Romantic? panel feat. Jean Meltzer, McCormick Place, W185d
3:00pm – 4:00pm – Anise Vance signing Hush Harbor
Sunday, June 25
9:30am – 10:30am – Elyssa Maxx Goodman signing Glitter and Concrete
11:00am – 12:00pm – Amber & Danielle Brown signing Perfect Little Lives
1:00pm – 2:00pm – Nonfiction You Can't Put Down panel feat. Elyssa Maxx Goodman, McCormick Place, W187c
2:30pm – 3:30pm – It's a Mystery to Me panel feat. Amber and Danielle Brown, McCormick Place, W185a
Monday, June 26
8:30am – 10:00am – Your Morning is Booked: ALMA/LibraryReads Adult Author Panel feat. Anise Vance, McCormick Place, W175ab
10:00am – 11:00am – Alechia Dow signing A Song of Salvation
10:30am – 11:20am – Aden Polydoros, Diversity in Publishing Stage (Next to Booth 5240)
11:45am – 12:45pm – Aden Polydoros signing Wrath Becomes Her
12:30pm – 1:20pm – Alechia Dow, Diversity in Publishing Stage (Next to Booth 5240)