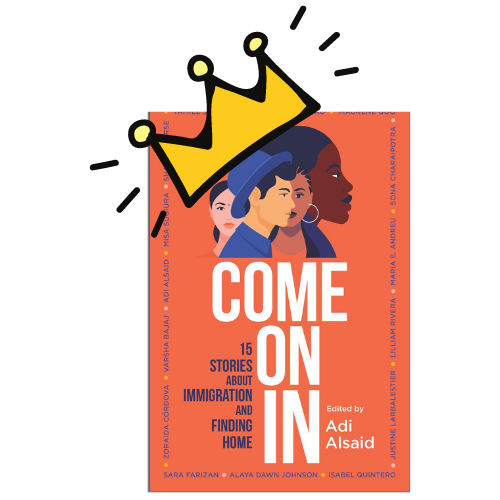 Not bad, not bad, … and not bad. Adi Alsaid has scored a third starred review for his beautiful anthology COME ON IN: 15 STORIES ABOUT IMMIGRATION AND FINDING HOME [Inkyard Press, October 13]. Publishers Weekly states that the author-slash-editor "successfully unites 15 short stories depicting a variety of immigrant experiences" starring "a diverse group of protagonists." 
Let us recap (recrown?):
👑"Each contribution provides a snapshot of the many meanings the word 'home' can evoke, making for a thought-provoking read. Authors' notes interspersed throughout lend autobiographical richness to the memorable anthology."
—PW, starred review
👑"There is humor, tenderness, despair, outrage, and tenacity… This is a poignant and powerful collection of universal themes embedded with cultural specificity."
—Booklist, starred review
👑"Powerful… An extraordinary anthology featuring exquisite writing and offering a genuinely diverse collection on the richly layered topic of immigration… Moving and deeply relevant to our contemporary world. A must-have antidote to xenophobia and a much-needed, compassionate mirror for many."
–Kirkus , starred review
You still have a few weeks to request the (thre)e-galley on Edelweiss and Netgalley!
Yep. We're here all day, folks.