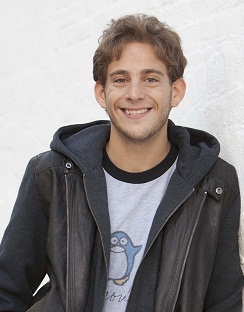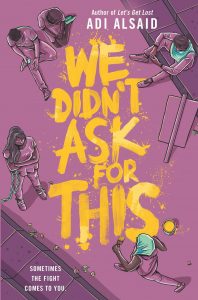 Adi Alsaid's latest novel, WE DIDN'T ASK FOR THIS [Inkyard Press, April 2020], opens with an annual high school lock-in legendary for changing lives. But this time, thanks to a group of eco-warrior students, it just might end up changing the world too.
In this Q&A with Monica Phillips from the North Richland Hills Library, the author talks climate change, teens and social action, and "sad white boy music."
Q: First, I love the setting of the lock-in because it lends itself to having so many different outcomes just because of the different people involved. I've been to lock-ins and I've even chaperoned a lock-in. Tell us how you came up with this particular setting idea.
A: The very first pitch of this book was Bel Canto meets The Breakfast Club. Bel Canto is one of my favorite books and I've always been drawn to the idea of a book set in a place where the characters can't escape. I like the challenges of coming up with a compelling story when everyone is physically stuck in one place. (Though I imagine we're going to be seeing a lot more of those stories in the coming years.)
How did the idea develop of Marisa and her team locking themselves to the doors?
I didn't have the foresight to think of a pandemic, so while I was trying to figure out how to have everyone stuck in the same place, there were two ways I could go about it: it's something outside of the character's control, or it's a deliberate character decision. The latter is the more interesting of the two, though I definitely flirted with the former (the idea was, briefly, a bunch of kids stuck on a school bus that's stuck in traffic. An obviously lamer book.)
The title We Didn't Ask For This is so apropos for all the characters in the book–from the students, the teachers, the parents, the school board, as well as the ecological causes mentioned in Marisa's list of demands. Secondly, the title is intriguing from the beginning because it tells the reader nothing about the book but at the same time it tells the reader everything. How do you decide on the title?  Does it come first, during or after the book?
Thanks! I love this title because I'm usually so bad with them. I sent a long list of pitches to my publisher, and there was a lot of back and forth before we found this one. Fortunately, I was traveling with some friends at the time, and asked them for help. In the beautiful surroundings of Patagonia over some wine, my friend Mook pitched the title. Someone along the line rejected it, but after a few emails I mentioned it again as if I'd forgotten it was rejected, and who knows why, the second time around everyone loved it.
Marisa feels so passionate about her causes and how one person can affect other people's convictions. This is a message to all young people that the world is affected by our habits, both good and bad, and that everyone needs to do their part. What do you want your readers to take away from your book? 
Yes, the book is about climate change, and about the changes we have to make and fight for. It's an encouragement for kids to raise their voices to fight for what they believe in. But I also want readers to ask themselves how they would react when a protest interferes with something they care about deeply. How would they react if the thing they care about interferes with someone else's goal? And, in a world threatened by climate change, are you still allowed to be a normal teen; to have crushes and passions and silly things you care about?
Do you see that this generation of teens are more active in eco-causes to change their environment?
Absolutely. The teens I dedicated the book to are an example of many who are fighting for environmental causes. If the pandemic had not arrived, a couple of my book tour stops were planned to take place with teen activists from the Sunrise Movement and the Youth Climate Strike organizations, which have been very active in the year or so since I wrote the book. I hope this book is an inspiration for teens, but it has also been inspired by teens.
I love the diversity of characters in this book.  They're not just culturally different, they are different in their self-esteem and personality (introvert vs extrovert), their personal struggles, as well as the ways they handle stressful situations. Can you share your insight into these characters?
In an ensemble cast like this, I'm always sensitive to making the character feel different. Not just on the outside, but their personalities, their voices. It's one of the things I most love about Bel Canto, how each and every character, major to minor, feels fully formed and unique. It was a major focus throughout my revisions to make them feel not just different from each other, but true to who I presented them as. This is where outside eyes such as editors, copy editors, and sensitivity readers really help you make a better book.
Do they come to you all at once or do they develop as the story develops?
They definitely develop as the story does. I try to have a want and a need for each of them before I start writing, some sort of arc that I can work towards, but they never really come to life until I'm writing (and even then it takes a couple of drafts until they're all fully formed).
Are any of these characters based on real people in your life?
Almost none of my characters are ever based on real people. I may pick out a few details or personality traits, but by and large they're fictional, and that's definitely true of the characters in WDAFT.
Do you like complete quiet when writing or do you listen to music?
I'm almost always listening to music when I write. Silence leads to too much space for my brain to meander.
What is your favorite type of music?
I'll call it indie folk rock. Basically, sad white guy music.
What are you currently reading?
Don't Read the Comments by Eric Smith, as well as Dear Haiti, Love Alaine by Maika Moulite and Maritza Moulite. Not trying to plug my publisher, but I'm sure they're happy reading this answer!
And finally, can you share with us what you're currently writing?
A handful of things! Trying to figure out what the next book is, and that's still undecided. So meanwhile I'm dipping my toes into screenwriting. I've got a feature length script I'm working on in the teen comedy genre, as well as a TV pilot.
Read more about We Didn't Ask for This here.