Amy Mason Doan still remembers how much she loved the 1990s, reading feminist 'zines and hanging out at bargain matinees at her local theater. What better way to share the love than to write an "unforgettable" (Bookpage) "perfect summer read" (Booklist): Summer Hours (on sale now, Graydon House Books). And now she's right here to share her June favorites with you!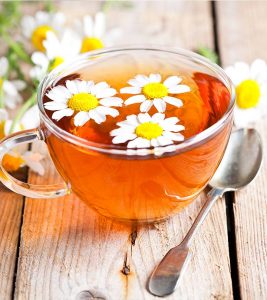 Tea So Nice, I Make It Ice: The Mt. Hood Vanilla tea from Townshend's is fantastic over ice, with a little honey or simple syrup. I brew it strong. If I'm extra-ambitious, I'll make ice cubes out of the tea.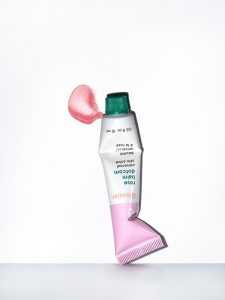 Lip Balm That Is The Bomb: My 13-year-old daughter introduced me to Glossier Balm lip balm in Rose, and now I'm addicted. It lasts a long time and has a sheer rosy-pink tint.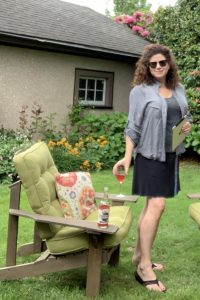 Fabulously Fizzy Wine: Hi-Wheel Fizzy Wine Company makes delicious sparkling drinks. They call it "adult lemonade," and they're always coming out with outrageous flavors like "Death Wish Bunny" (lemon, ginger, chai, spices, carrots) and "Plum Bomb" (plum and cardamom). I love that they're not too sweet. My favorite is "Black Lightning" (lemon, black currant, top-secret spices).
A Top-Secret Family Treat: My great-grandfather was a small-town physician/druggist in Illinois, and my grandfather worked at the drugstore's soda fountain when he was a boy. Here's the old family recipe for "Super Simple Hot Fudge Sauce." It's amazing over peppermint ice cream, and of course tastes best when you eat it in the back yard.
Recipe:
2 tablespoons margarine or butter
¼ cup cocoa
½ cup granulated sugar
¼ teaspoon vanilla
2 tablespoons water
Stir cocoa and sugar together. Melt the margarine or butter on low heat, then slowly add cocoa-sugar mixture, stirring constantly. Add the vanilla, then the water. Stir constantly over high heat until smooth. When the sauce bubbles, stir for exactly 30 seconds more. Remove from heat, let cool for three minutes, and serve.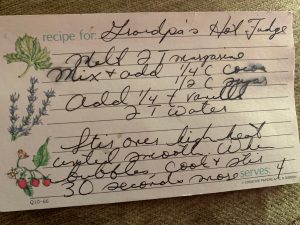 Happy June!
Amy Mason Doan