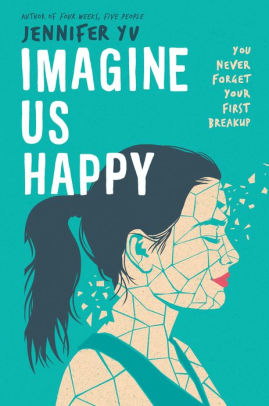 In Jennifer Yu's novel Four Weeks, Five People [Harlequin TEEN], we met five high schoolers reluctantly brought together–and reluctantly bonding–at a summer camp for troubled kids. There, we got to know four of the teens, their backgrounds, and what led them to spend a summer with complete strangers. But there was one character we only got glimpses of: a mysteriously hardened veteran camper named Stella.
Imagine Us Happy [Oct. 2018] is Stella's story.
Taking place just before the fateful summer of Four Weeks, Five People, Yu's emotional new standalone novel is an examination of adolescent depression that's already left an impression on those who have dealt with the illness themselves–including the book's editor, TS Ferguson. His poignant thoughts are featured on BNTeen's 'YAs That Get It Right: Depression Edition which featured the title in a recent roundup.
Stella's heartbreaking story of trying to survive high school, a toxic relationship, and crippling depression–all penned by a young author already known for her astute portrayals of mental health struggles–comes out on October 24th. But you can get an early read of Imagine Us Happy, available for request on Netgalley.
(And don't miss the paperback edition of Four Weeks, Five People, on sale September 18.)